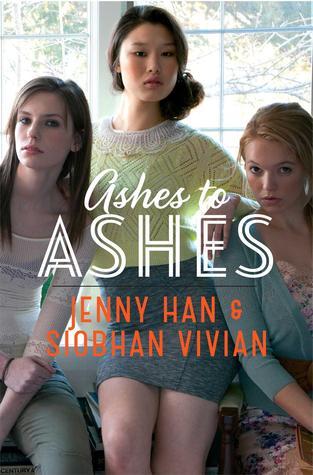 New Year's Eve ended with a bang and Mary, Kat and Lillia may not be prepared for what is to come.
After Rennie's death, Kat and Lillia try to put the pieces together of what happened to her. They both blame themselves. If Lillia hadn't left with Reeve... If Kat had only stayed with Rennie... Things could have been different. Now they will never be the same.
Only Mary knows the truth about that night. About what she is. She also knows the truth about Lillia and Reeve falling in love, about Reeve being happy when all he deserves is misery, just like the misery he caused her. Now their childish attempts at revenge are a thing of the past and Mary is out for blood. Will she leave anything in her wake or will all that remain be ashes?
I love Janny Han and her books and I think that everyone knows that by now but I didn't read any book from Siobhan...
I've been struggling whole day how to rate this one. It was good but not great, and even though is the last of Burn for Burn series I'll give it three stars review. Let me explain why (I'll try not to reveal any spoilers).
I'm happy that this is the last book. I partly enjoyed series but sometimes it was just not good enough for me. It all went down with second book in series; Fire with Fire, when Mary becomes too annoying. Reading her POV was frustrating. I didn't like her from the start and in Ashes she becomes insufferable! In first one hundred pages was okay, I event thought that she

won't

be that annoying but after... uffff! She wanted blood and revenge... but girl, cool it down! For me, she was incomplete as character.
Lilla, Kat, Mary
Lilla... I like her very much though she's rich kid and has everything she wants but she's not spoiled. Her and Reeve's relationship was sweet :) I liked her POV and enjoyed reading it. She was great character.
Kat... well she's the only one in these three books that developed as character. She's gone from bad ass Kat to great girl who has strong spirit and holds everything and everyone together. She's no longer girl who's despised. She's grown in girl that people love and want to hang out with :) I have feeling that in his book she's the one who is fixing everything.
The end was confusing. Well, I don't want to tell you any spoilers but... last chapter of the book was from Lilla's POV and she basically told us the story what happened after whole fiasco with Mary. I didn't like that chapter. It was just not good enough. I wouldn't end book like that... but I wasn't writing it so...
In the end I would recommend it to everyone who liked first two books from series and everyone who likes high school ghost drama and love triangles ;)
Jenny Han &
Siobhan Vivian