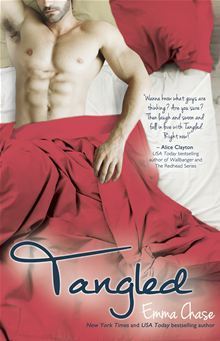 Drew Evans is a winner. Handsome and arrogant, he makes multimillion dollar business deals and seduces New York's most beautiful women with just a smile. He has loyal friends and an indulgent family. So why has he been shuttered in his apartment for seven days, miserable and depressed?

He'll tell you he has the flu.

But we all know that's not really true.

Katherine Brooks is brilliant, beautiful and ambitious. She refuses to let anything - or anyone - derail her path to success. When Kate is hired as the new associate at Drew's father's investment banking firm, every aspect of the dashing playboy's life is thrown into a tailspin. The professional competition she brings is unnerving, his attraction to her is distracting, his failure to entice her into his bed is exasperating.


Then, just when Drew is on the cusp of having everything he wants, his overblown confidence threatens to ruin it all. Will he be able untangle his feelings of lust and tenderness, frustration and fulfillment? Will he rise to the most important challenge of his life?

Can Drew Evans win at love?

Tangled is not your mother's romance novel. It is an outrageous, passionate, witty narrative about a man who knows a lot about women…just not as much as he thinks he knows. As he tells his story, Drew learns the one thing he never wanted in life, is the only thing he can't live without.





Croatian edition of book. Pic from my Instagram

Tangled came out in Croatia this week and as soon as I saw it I knew that I have to have it! I thought that I'll buy it on Interliber (Croatian biggest fair for books, it's in November) but I couldn't wait to buy it. I'm glad that I didn't wait. Let me tell you why . . .


"For God's sake, don't let her watch Cinderella. What kind of example is that? A mindless twit who can't even remember where she left her damn shoe, so she has to wait for some douchebag in tights to bring it to her? Give me a frigging break!" I don't know where to start. I just loved it. I laughed my ass off every few seconds or minutes. Sometimes I laughed so hard that I started crying!"In that same year, NYU conducted its own study. With rats. They implanted electrodes in the brains of male rats and put two buttons in their cages. When the lucky little bastards pushed the blue button, the electrodes triggered an orgasm. When they pushed a red button, they were given food.Care to guess what happened to all the rats?They died.They fucking starved to death.They never pushed the red button.Need I say more?"



Do you see where I'm going with that? Drew's mind is great! Yes he is male whore but when he falls for Kate. . . Well that was great to read about! I just can't describe it. Male mind is so different from ours. I can bet that this book wouldn't be so hilarious if it was from Kate's POV. We girls do drama, boys not. Boys are like all relaxed and don't bother with little things. They sometimes don't know what they want but when they FINALLY find out what they want, they'll fight for it.


"I BET YOU DIDN'T KNOW THIS, but lots of guys have a thing for Ariel. You know, from The Little Mermaid? I've never been into her myself, but I can understand the attraction: she fills out her shells nicely, she's a redhead, and she spends most of the movie unable to speak. In light of this, I'm not too disturbed about the semi I'm sporting while watching Beauty and the Beast—part of the homework Erin gave me. I like Belle. She's hot. Well…for a cartoon, anyway. She reminds me of Kate. She's resourceful. Smart. And she doesn't take any shit from the Beast or that douchebag with the freakishly large arms. I stare at the television as Belle bends over to feed a bird. Then I lean forward, hoping for a nice cleavage shot… I'm going to hell, aren't I?"


Emma's writing style is great. When I grow up I want to write like her. Oh, and Erin Morgenstern xD but mostly like Emma :D From now one she's one of my favorite writers.


This book is full of lessons for us women, although it was written from a male perspective. This one is only one of them:


"No man wants to fuck a skeleton—and nibbling crackers and water like a prisoner of war at dinner isn't attractive. It just makes us think about what a cranky bitch you're going to be later on because you're starving. If a guy's into you? A cheeseburger deluxe is not going to scare him away. And if he's not? Ingesting all the greens on Peter Cottontail's farm isn't going to change that, trust me."


So if you didn't notice till now; I loved the book. I enjoyed and I recommend it to everyone! Someone asked me on my Facebook page if it's something FSOG like. IT IS NOT! This book is nothing like FSOG! In some ways it's even better. Don't get me wrong, there is no BDSM or that much of sex beside Drew constantly thinking about it, but it's all nice wrapped in hilarious package :)








I can't wait to start with second one; Twisted.


What are you waiting? Still reading this post? GO GET THE BOOK AND READ IT!!








By day, Emma Chase is a devoted wife and mother of two who resides in a small, rural town in New Jersey. By night she is a keyboard crusader, toiling away the hours to bring her colorful characters and their endless antics to life. She has a long standing love/hate relationship with caffeine.
Emma is an avid reader. Before her children were born she was known to consume whole books in a single day. Writing has also always been a passion and with the 2013 release of her debut romantic comedy, Tangled, the ability to now call herself an author is nothing less than a dream come true.
website: http://www.emmachase.net/