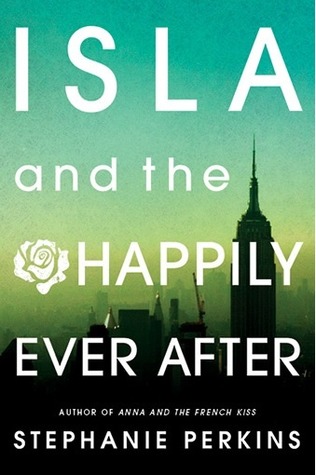 I couldn't wait my preordered copy to come so I read it on my ebook reader.


And now... now I'm in love.



Anna and the French Kiss came out on December 2nd 2010
Lola and the Boy Next Door came out on September 29th 2011
Isla and the Happily Ever After came out last week.

Do the math. We waited two years for this perfect book to come out!!!
Yes, it was frustrating, yes it was painful, but it was worth all of that pain.


Anna and Lola were perfect for me. They were easy and fast reading, bright and funny. Before Anna I didn't know what was so special about Paris. I wasn't romantic soul, but after that book I fell in love. Stephanie Perkins opened my eyes to that beautiful city with a perfect story. Lola was great too, not better than Anna's and St. Clair's story but she and Cricket were sweet couple. And Lola... oh I left my heart with her and Josh.


Here's something about the book (CP from GR):

From the glittering streets of Manhattan to the moonlit rooftops of Paris, falling in love is easy for hopeless dreamer Isla and introspective artist Josh. But as they begin their senior year in France, Isla and Josh are quickly forced to confront the heartbreaking reality that happily-ever-afters aren't always forever.

Their romantic journey is skillfully intertwined with those of beloved couples Anna and Étienne and Lola and Cricket, whose paths are destined to collide in a sweeping finale certain to please fans old and new.









Start of the story takes place in New York, the city that I love ever since I can remember. Lola is in love with Josh as she first saw him in the SOAP (School of America in Paris). In NY they finally make their first contact before the beginning of the last year of schooling in Paris and from there the story goes on.





"You know that because you asked me out, you're the one who has to pick the place, right?"

Throat. Dry.

Dry throat.
All of the dryness in my throat.
"Whatever you suggest." He grins. "I'll say yes. You'll definitely get a yes. If that helps."


Lola and Josh are cute couple. As they fall in love, you fall with them. While they suffer, you suffer with them. There are moments when I was ready to cry with them.




"I like stories of adventure. Especially if there's some kind of disaster involved."

The eyebrow remains arched.

I laugh. "I read the ones with happy endings, too."
Josh gestures towards my shelves. "You read a lot."
"Safer than going on a real adventure."
Now he's the one who laughs. "Maybe."




Lola is a person who is realistic, more caring for others than for herself, she's selfless, fun, but also very shy.
Josh is an artistic soul and all for he cares is Lola and his graphic autobiography.



"I'm…getting there. I'm beginning to think that maybe it's okay to be a blank canvas. Maybe it's okay that my future is unknown. And maybe," I say with another smile, "it's okay to be inspired by the people who do know their future." "It goes both ways, you know." I link his icicle fingers through mine. "What does?" "Artists are inspired by blank canvases." My smile grows wider."


This book is not only about love and crossing barriers between them but also about finding a place for themselves in this world.








I love books about high school sweethearts. They always cheer me up and after reading I feel very much in love :)
In this book there are also all the characters from the previous books; Anna and St. Clair, Lola and Cricket... that made me happy! :D



"Phones are distracting. The internet is distracting. The way he looked at you? He wasn't distracted. He was consumed."



I would recommend this book to all who enjoy such a reading; a light and cheerful for anyone who needs a break from the serious topics.
"How did my parents live before texting? Before the internet? I'm used to knowing things and all of this unknowing is driving me mad."





Stephanie Perkins
Anna and the French Kiss
Lola and the Boy Next Door
Isla and the Happily Ever After
My True Love Gave To Me: Twelve Holiday Stories


Website http://www.stephanieperkins.com
Twitter: http://twitter.com/naturallysteph
Tumblr: http://naturallysteph.tumblr.com
8tracks: http://8tracks.com/naturallysteph