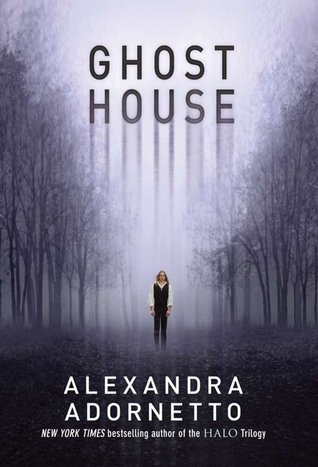 From the New York Times bestselling author of Halo comes the start of a beautiful and powerful new series.

After the loss of her mother, Chloe Kennedy starts seeing the ghosts that haunted her as a young girl again. Spending time at her grandmother's country estate in the south of England is her chance to get away from her grief and the spirits that haunt her. Until she meets a mysterious stranger…

Alexander Reade is 157 years dead, with secrets darker than the lake surrounding Grange Hall and a lifelike presence that draws Chloe more strongly than any ghost before. But the bond between them awakens the vengeful spirit of Alexander's past love, Isobel. And she will stop at nothing to destroy anyone who threatens to take him from her.

To stop Isobel, Chloe must push her developing abilities to their most dangerous limits, even if it means losing Alex forever… and giving the hungry dead a chance to claim her for their own.

How I imagine Isobel wandering hallways
I really wanted to like this book and I do, but something is missing. I'm big fan of Alexandra's writing. I loved her Halo trilogy about good angels and constant fight between good and evil. I was so excited when I saw that she was writing Ghost House 'cause I would not expect that kind of book from her.
Chloe Kennedy can see ghosts as far as she remembers. Her mother taught her how to block them as a child and she successfully blocks them till the moment her mother unexpected dies. On her funeral she stars seeing them again. I don't remember if she ever mentioned how her mother died??!
Few days after funeral her father and grandma decide it would be the best for Chloe and her little brother to stay few weeks with her grandma in Grange Hall in England. Everything would be okay if that house isn't haunted by Alexander Rade and Isobel who have dark past on themselves. Alexander and Chloe slowly fall in love and it pisses of Isobel even more.
"You couldn't hide from the dead and you couldn't keep secrets from them. They saw everything."
How I imagine Isobel wandering hallways2
I've read comments on Goodreads before I started this one and I was surprised how many people were disappointed by this book. It's not that I'm disappointed as well but I'm not impressed ether. I expected a lot more from Alexandra.
In the end I decided to give it 3 stars review.
I would recommend this book everyone who likes ghost stories but is not afraid of them.
You can reed expert here.