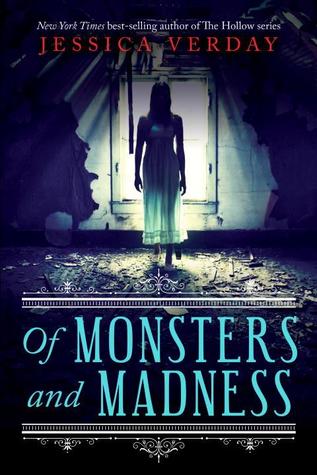 PUBLISHER: Egmont USA
PUB DATE: September 9, 2014
PAGE COUNT: 276 pages

A romantic, historical retelling of classic Gothic horror featuring Edgar Allan Poe and his character Annabel Lee, from a New York Times best-selling author.

Annabel Lee is summoned from Siam to live with her father in 1820's Philadelphia shortly after her mother's death, but an unconventional upbringing makes her repugnant to her angry, secretive father.

Annabel becomes infatuated with her father's assistant Allan, who dabbles in writing when he's not helping with medical advancements. But in darker hours, when she's not to be roaming the house, she encounters the devilish assistant Edgar, who bears an uncanny resemblance to Allan, and who others insist doesn't exist.







My first book from Jessica was The Hollow and I instantly loved it. It's first part of Hollow trilogy and I enjoyed every second reading these three books. I liked her The Beautiful and Dammed too. Of Monsters and Madness? Uh, not that much.

In this book there is soooo many things that are just wrong. But first, I'll tell you what I liked.

Annabel Lee. Jessica made great character. She is caring, loving and strong. She has interest in medicine though in that time was forbidden for woman to practice medicine. Annabel is just 16 when she comes to her father after she lived with her mother (who died just before her trip to Philadelphia) in Siam. All she knew about medicine she learned from her.

I liked Jessica's style of writing. She's great author. And talented we all see that, but story was just not right :(

What I didn't like... oh. It's considered that his wife, Virginia Clemm inspired him to write Annabel Lee. So she wasn't a real person. Jessica created two personalities from Poe. Allan the good and original one, and Edgar, the bad one who was created as side effect of experiment. Poe's fans will not like that.

The cover is nice but not for this book. I expected to read horror cause of picture on it, not crime story. There are some parts that should look scary but they just weren't.

Oh, and the end of the book... where is it? Is that all or what? But sequel will be out in September 2015 (Of Phantoms and Fury). I don't know if I'll read it :(






I'm disappointed by this book so I gave it two stars review.

Oh, I want to cry. I wanted to love it but I didn't :(




About this author
Jessica Verday is the New York Times bestselling author of The Hollow Trilogy, published by Simon & Schuster/Simon Pulse. She wrote the first draft of THE HOLLOW by hand, using thirteen spiral-bound notebooks and fifteen black pens. The first draft of THE HAUNTED took fifteen spiral-bound notebooks and twenty black pens. THE HIDDEN took too many notebooks and too many pens to count. Find out more at jessicaverday.com.