Loving the Senator (Capitol Affairs #1)
by Mia Villano
Published October 28th 2014
by Swoon Romance




On the outside, Alex Conrad has everything. He's gorgeous, rich, and has just been elected to the United States Senate by the state of Virginia.

But for the past few years, something has plagued Alex. Something has been missing from his life of privilege and opportunity. Something he has never allowed himself to acknowledge, until the night of his election.

Prudence Romaine is seventeen years Alex's junior. The daughter of a friend whose life had taken a wrong turn, Prudence came into Alex's life when she was just sixteen. Despite the passage of time and evidence to the contrary, Alex still thinks of Prudence as the little girl he once tried to rescue.


On election night, the sexual tension between Prudence and the senator reaches a tipping point. Prudence has been in love with Alex for some time, and now that she is in a position to do something about it, she has her aim set on Senator Conrad with no plans of giving up.

But Alex is already committed and a scandal is the last thing the newly-elected politician needs. As Alex pushes Prudence away, convinced their relationship can only end badly for them both, Prudence becomes even more determined to have Alex Conrad in her bed as well as her heart.

And Alex? He can only hold out for so long. And once he gives in, the passion they've held back for years threatens to undo them. But loving the senator is not all it's cracked up to be.

Prudence must learn to handle the pressure that comes with being with a high-profile politician, Alex's jealous ex-girlfriend, and the demands of the people, if she wants to make this work.

Loving the Senator is an erotic romance aimed at mature audiences and is part of the Capitol Affairs series of novels.






This is the first book that is given to me for review from publisher and I am so happy that it was that book. I was part of book blitz so you can find excerpt of the book here :)


Mia Villano did a great job with this book. It's interesting, hot and erotic.


At first I didn't know what to expect. I don't like politics and hoped it would not ruin the book. And thank God it didn't. There was only small but necessary part of politics in it.



Mia did a great job creating character like Prudence. I totally liked her. She's strong and independent young woman who know what and whom she wants. I understand her every action in the book. We girls are weak on hot guys and even weaker when we are in love with hot guy. We love them no matter how many mistakes they make and no matter how stupid they are. I've been there so I know that.


Whom I didn't quite like is Alex Conrad aka THE SENATOR. Yes, he is God of sex and all men are in erotica romance books, but sometimes I found him annoying. At first he was on and off and seemed like he didn't know (even though he assures you that he knew all the time) he wanted Prudence. I don't know how to describe it... all he did or said was wrong to me :(


I watch this book like three parts. First one was fighting for the heart of Alex. The second was all about Prudence, her past and overcoming the obstacles in her life where her character grows and develops and the third where she and Alex have to fight for their love.


I caught myself few times thinking what will happen next in book while I was on work. I couldn't wait to see where the plot goes.



All in all its four stars review from me and I would recommend it all who likes erotica romances :)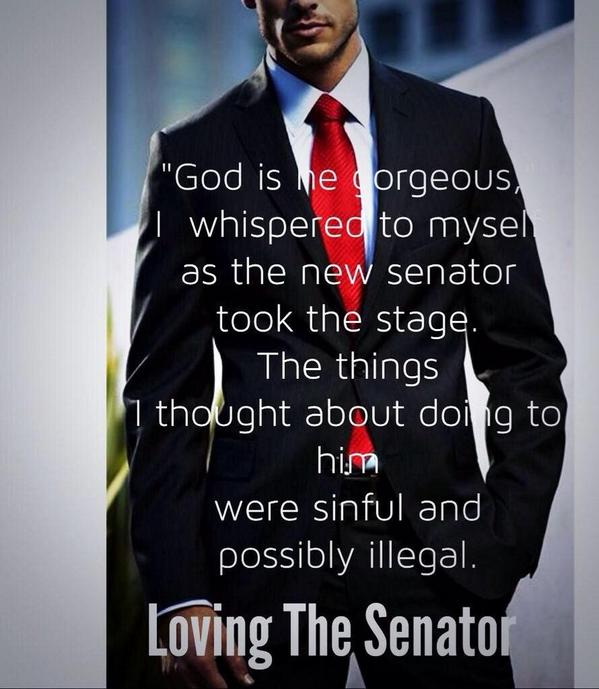 AUTHOR BIO:
Mia Villano's love for politics and romance inspired her to write her first erotic romance. Loving The Senator is the first book in the Capitol Affairs Series.
When she is not writing, Mia is hiking, cooking, and spending time with her two daughters.


Author links:

https://www.facebook.com/mia.villano.7 https://twitter.com/mammabasso