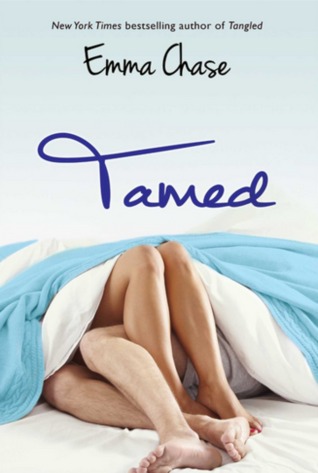 Stop me if you've heard this one before: girl meets player, they fall in love, player changes his ways.
It's a good story. But it's not our story. Ours is a lot more colorful.
When I met Dee I knew right away that she was special. When she met me, she thought I was anything but special—I was exactly like every other guy who'd screwed her over and let her down. It took some time to convince her otherwise, but turns out I can make a convincing argument when sex is at stake.
You might know where this story's headed. But the best part isn't where we ended up.
It's how we got there.
TAMED goes back in time to the Tangled days. But this time around, it's not Drew dishing out the advice and opinions—it's his best friend Matthew, who of course is dealing with Dee Dee.





"Leaning close to her, I ask, "If not a banker, what do I look like?" She smiles slowly and scrapes the olives off the toothpick with her teeth. "You look like a Chippendales dancer." Fabulous answer. I don't really need to explain to you why, do I? In a low, seductive voice I say, "I do have some great moves. If banking doesn't work out, Chippendales is Plan B."


So as you can see this book is fun too. Not hilarious as Tangled was, but still pretty good. This book is really great love story.
As we all know, Matthew and Dee get together and eventually marry and so it's not big spoiler cause Kate tells us in Twisted.
It was interesting reading what happened with two of them while Drew was 'fighting' with Kate on work. Dee was fun as always but I expected little more of juicy comments from her. I love her character! She was just a girl who was afraid to fall in love... Oh and Matthew..!




"Love is missing the taste of someone's morning breath. Thinking they're beautiful, even when their nose is Rudolph-red and their hair is bird's nest crazy. Love isn't putting up with someone in spite of their faults--it's adoring them because of them."


We all fell in love with Drew and his crazy character. We all love bad boys, but Matthew is something else. Though he is womanizer before his relationship with Dee, he is a good guy. And I adore him! He's just my type of guy; caring and loving and fun and romantic when needed. Yup. I'm in love :) He's the type you wanna marry. Drew's the type you full around some time.


". . . communicate their desires. My book club is discussing a novel this month on this very subject. Fifty Shades of Grey. Would you like to borrow my copy, Matthew?" I take a long drink of water. "No, I'm already familiar with it, thanks." The fact that my dear, sweet mother is familiar with it, however, will definitely be giving me nightmares."


This book is typical happily ever after romance and I enjoyed every word in it. It's five stars review and going on my favorite shelf.